So now I have 3 scroll saws. 1 enormous J-Line
which is non-functioning due to irreplaceable parts and destined for the scrap yard
(the base and motor are being recycled, but if anyone has a use for a huge hunk of cast iron scroll saw, let me know). Then there's the Delta 40-690 that I bought last year. Nice saw, like it. I sold the base out from under it and put it on the J-Line base. Then there's the Hegner 22v that I bought yesterday from a woman that bought it new 13 years ago and hardly used it. She said the blades broke too much and it made a noise that scared her. After examining the pristine saw (with a less than pristine base- peeling paint and rust on the bottom of it) I concluded that the problems were user error. This is a very nice saw.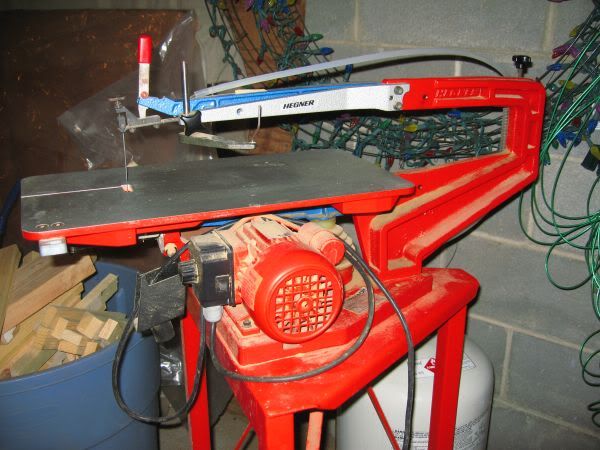 So currently the Delta and the Hegner are sitting side by side in the shop, waiting for me to have time for a side by side test run. Hopefully tonight, but mom is visiting, so who knows...
At a glance, the table for the Delta is bigger. Might or might not be an issue- I make some 13x19 jigsaw puzzles. I think the Hegner table is big enough. The control placement for the Delta is definitely better- I like everything up top. Hegner has the quick release which I like a lot. Hegner stand is more solid than I found the Delta stand, so I think it would live on that and the J-Line base would become the base for a lathe that will also use the Baldor motor from the J-Line.
I paid less for the Hegner than for the Delta and also less than I think I can get for the 8 month old Delta, even without the stand.
Apart from what I mentioned, does anyone with experience with both saws have a pro\con opinion on them? Obviously there's no warranty on the Hegner and 4+ years left on the Delta. I suspect I'll keep the Hegner and put the Delta on Craig's List next week. I'll offer it here, if there's an appropriate way to post something for sale- I don't see a "swap and sell" type forum.
Thanks for any input,
Anthony