I came across this artwork in a store last year, and I purchased it right away. I loved the scene of Santa, stopping in the winter woods to offer the animals apples from his big bag. After removing it from the frame, I mounted the picture which was fairly large at about 16" x 20" onto Mahogany plywood, and proceeded to design and cut it into a multilayered jigsaw puzzle for my children to enjoy during the Holidays.
I had hoped to have it done for this past Christmas, but for various reasons it ended up on the back burner for a while until I recently had opportunity to complete it. This puzzle took a pretty good investment of time to complete, and it's components range from one to five 1/4" layers of thickness.
I embellished the puzzle with elevated snowflake figurals (of various thicknesses to improve the illusion of depth).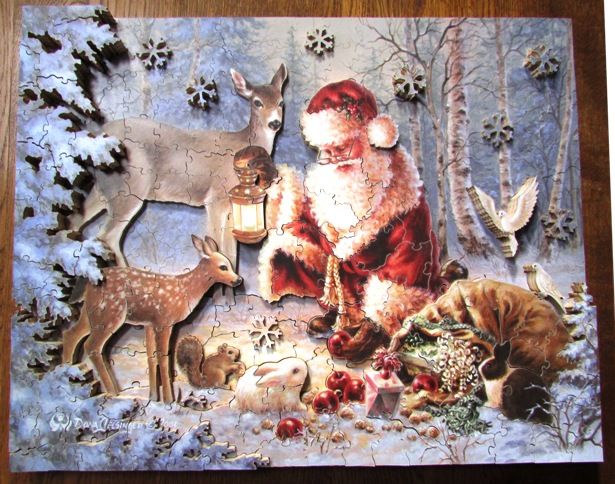 Perhaps the most challenging part of this puzzle was crafting the intertwining evergreens on the left hand side of Mrs. Gelsinger's artwork, which stand the highest above everything else.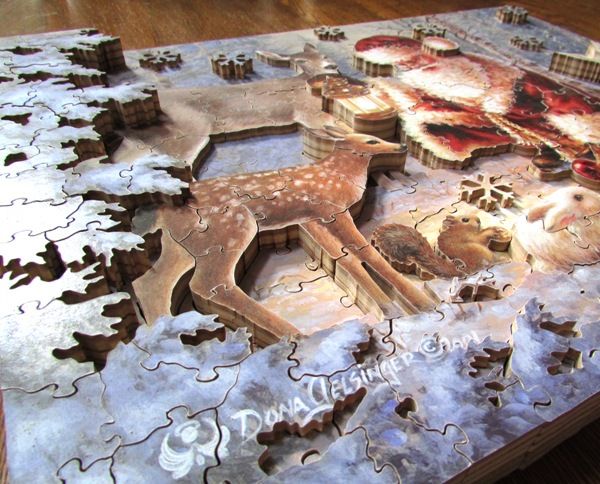 I loved being able to bring the doves out by elevating those pieces also. The flying dove really looks to be flying! It's not easy to see in the pictures, but Santa's bag rises above the background as well.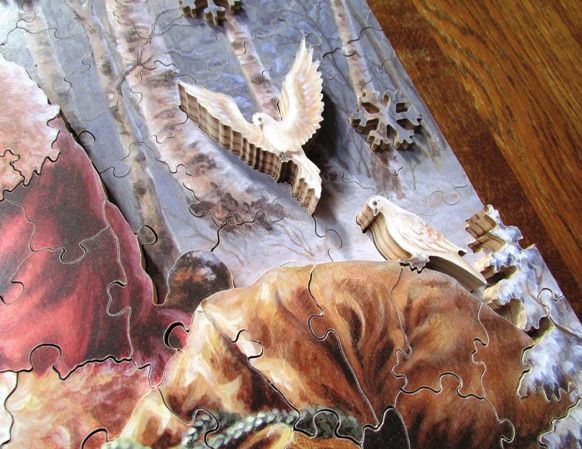 I tried to be careful not to distort Santa's face with my kerf lines by directing my blade along his glasses, and by following the texture of his beard. To add further enhancement, I further elevated the "pom" on his hat, and the lantern he is holding, to make both stand more proud.