So, my son Jeremy needed an idea for his 6th grade science fair, and being an avid puzzle enthusiast like his ol' dad, he decided to do a jigsaw puzzle experiment this year.
His hypothesis was that the image on a jigsaw puzzle would affect it's assembly time, and more specifically, he was testing to see how assembly time of a puzzle using a geometric pattern as an image compared to one using an artistic painting. The idea is that the first would involve more logic in assembly (left side of brain) and the latter would involve more artistic reasoning (right side of brain).
For the experiment, he chose a plaid pattern as the "geometric picture" and a painting using a similar color palette as an "artistic picture."
Jeremy asked me to create two puzzles (short notice....I only had a few hours...Grrrr), and what I did was to design a cutting pattern, as both needed to be identical in every way except for the picture. Using the pattern as a template, I cut both from maple ply. Each puzzle is about 10" x 10".
For fun, I designed a quick "Science Fair" themed multilayer concept.
The study design involved testing 10 people, where they were timed on each puzzle. Half were allowed to assemble the geometric puzzle first, and the other half the artistic puzzle first. Also, all assemblers were allowed to see the template pattern for 5 seconds before starting ( but not a picture of the final puzzle).
Any guesses what the results were? <GRIN>
He has to present his project to the judges tomorrow....wish him luck!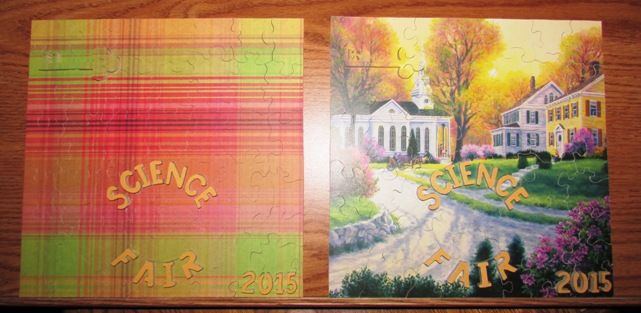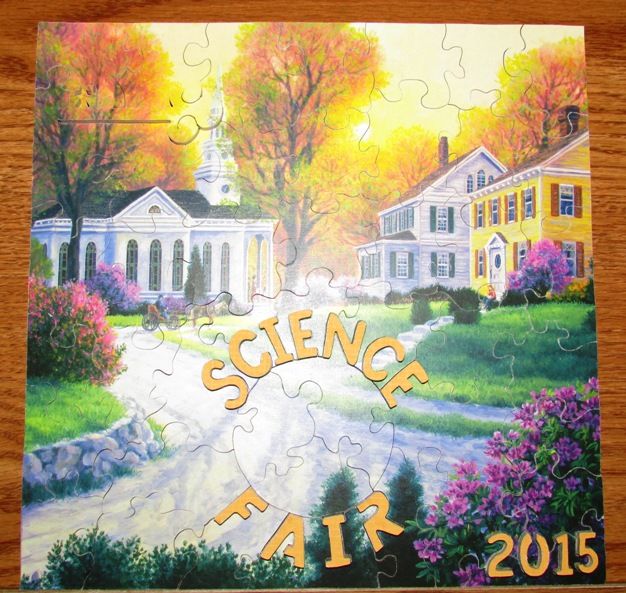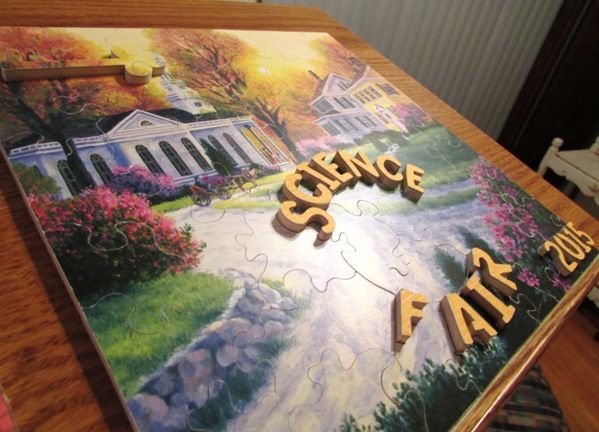 The "key" on the top left is the school's symbol.