I'm sorry I have not had the time to share many of my puzzles on the forum the past several months, as I've been busy, busy, busy....
I thought I would share a newer type of puzzle I am designing which incorporates my multidimensional puzzles into a tray style concept. I hope you like it.
"Rapunzel's Tower" was cut this weekend as a gift for my daughter for her 15th birthday. The image was cut from a children's book I had purchased.
Here is a picture of the "tray", which is about 9" x 9" square, and 1" thick. The decorative margins are covered with typical jigsaw puzzle paper, while the base is mahogany, finely sanded and finished with shellac.
The yellow fabric pouch contains the puzzle pieces.
Here is my daughter assembling the puzzle, with the pieces fitting within the circular tray.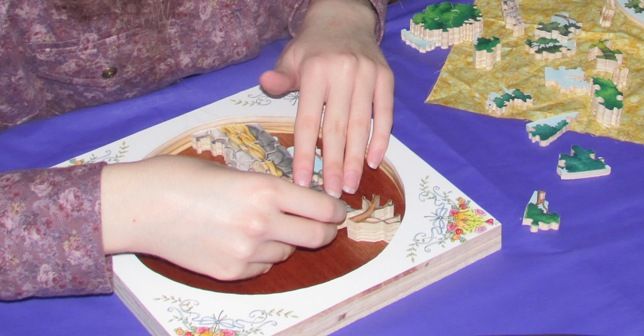 And here it is fully put together.