Okay....time to update some progress!
So, here you can see that I have cut out most of the girl, and have come to her arms. This spot will take a little extra attention.
Remember that the girl is three layers thick, and I decided to keep her left arm the same, but to make her right arm two layers thick (the same as the branch). This will give a neat sense of depth when done.
Of course, the background sky will be a single layer, and we'll have to deal with that little triangle of open air between her hands.
The first thing I did was to cut out her left arm. This will be a simple glue-up to make a single triple layered piece.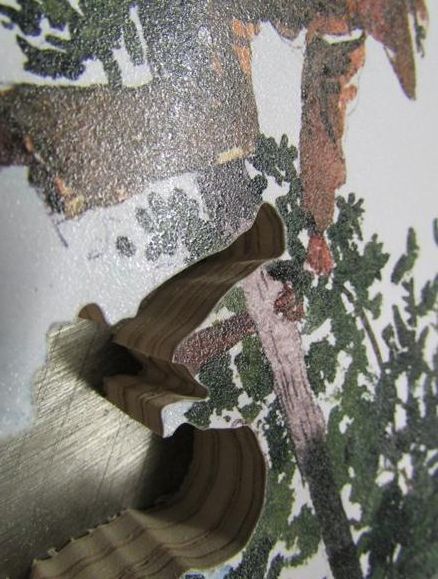 Now I have to decide what I want to do. One option would be to cut the branch as a single piece, with the air between the girl's head and the branch as another piece. A problem with this is that having a shallow, single layered piece, between surrounding multilayered pieces, can make it hard to fit a finger in when trying to press the shallow piece in place.
For this reason, I will make the air and the branch a single united piece, similar to how we did the fence a while back. I will also cut a locking tab above the branch. We'll have to remember that the interlock is only one layer thick.
Another Tip
: When planning interlocks which transition between two different heights like this (in this case, the branch and the sky), always cut the interlock from high/thick toward low/thin (from the branch extending out toward the sky,
not
from the sky extending into the branch).