I thought that I would put together a step by step tutorial for the second technique I use for my multilevel designs, and share it here for the forum members.
I often get a number of questions about how I go about making one of these designs, and it is not always easy to explain. As such, creating a little photographic essay of the process I think will make it very clear.
The other tutorial (
http://www.scrollsawer.com/forum/scr...zles/27292.htm
) which I have had posted for a while now shows how to cut a multilayered puzzle using several copies of the original image, and layering them atop one another as totally unique puzzle sheets. Except for the "anchor pieces" which hold the sheets together, every piece is a single 1/4" thickness. The advantage of this technique is to create a puzzle with more numerous pieces, to increase the challenge level, and to be able to hide "secrets" under various layers. Another advantage is it requires much less gluing.
A disadvantage is that it involves gluing wood to paper, which forms a weaker bond than wood to wood.
...........
The technique I am going to review here shows how to cut a more complex multilayered puzzle from only a single image. The results can be very aesthetically nice and interesting, and the benefits include a more permanent, trustworthy bond. Disadvantages include a smaller piece count, and much more gluing time, and craftsmanship away from the scrollsaw.
For those interested in trying a puzzle like this from a pattern, my complete instructional article, along with a pattern and picture, can be found in SSW&C Spring 2014. For simplicity, that puzzle features individual pieces which are either 1, 2 or 3 layers thick. The puzzle I will discuss here will involve single pieces which contain various portions of thickesses (a single piece will contain a portion which is 1/4" thick, a portion which is 1/2" thick, and a portion 3/4" thick). For structural integrity, despite the variation of thickness within the piece, if you flip the piece over, it's back will be a solid, contiguous piece of wood.
For this tutorial, I am going to return to Winslow Homer, and borrow his painting "On The Fence," which is a wonderful image of a girl and boy enjoying each other's company. The painting, created in 1878, is in the public domain.
Conceptualization
When I seek a picture for one of my multidimensional designs, I try to find images which nicely allow for various levels of depth.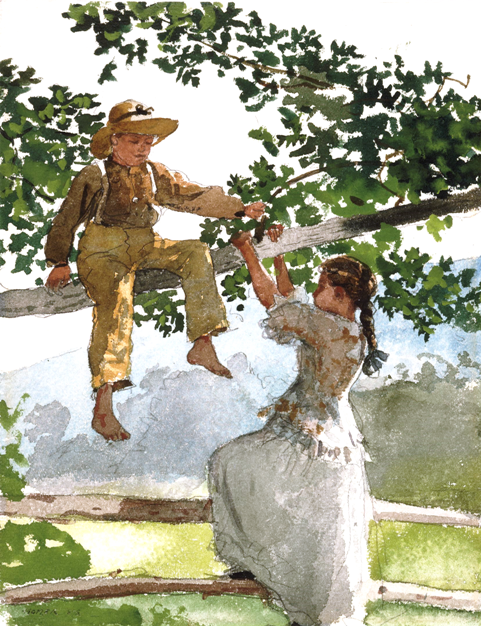 Here, I have decided on making a three-layered puzzle. The majority of the background (the grass, mountains, sky and leaves) will be a single layer thick. The horizontal fence rails and the large tree branch, along with the girl's right arm, will be two layers thick. Finally, the girl and boy themselves will be three layers thick, making them stand most prominently in the foreground.
Scanning the picture for potential pitfalls
Before investing time and effort into a puzzle, it is a good idea to sit back and study the picture, looking for any potential trouble spots. I see a couple right away with this picture. First, there is a very small space between the girl's pony tail and her neck, which will be a different thickness (the background is one layer, the girl is three). While this could be achieved, it is a trouble spot. Second, the space between the girl's nose and the ruffle on her right sleeve, is quite small. Since this will be a 5" x 7" puzzle, that puzzle piece (containing the background) will be too narrow and delicate. Finally, there are some leaves which overlay the fence and main branch. I have a decision to make with these, since most of the background leaves are only one layer thick. Since they are on top of the two-layered fence/branch, I could cut them 3 layers thick, like the boy and girl. Alternatively, I could eliminate them.
Since this is an image within the public domain and free to be altered, I decided to bring Photoshop to the rescue! As much as I hate to tinker with a masterpiece, to make this image work for my little jigsaw puzzle, I have color matched the girl's hair to fill the void, widened the gap between her nose and her arm, and removed the portions of the leaves overlying the fence and branch.