When I designed my first "Snow Globe Puzzle," I decided not to share this particular one on the forum, largely because it was emotional to me and I wanted to keep it personal. Over a year later, however, as I'm working on the (long overdue) updating of my website, I came across some pictures of it, and thought I would share it with my friends here.
There is a bit of a back story in it's creation.
Last year, a few weeks before Christmas, I ran into a friend of mine in our office parking lot. He was rushing out from work as he received a call from his youngest daughter Elizabeth's school. Evidently she had brought her special snow globe to her kindergarten "Show and Tell" and while displaying it to her classmates, accidentally dropped it, causing it to shatter. She was deeply upset and in tears, and her dad was called to help console her.
Normally hearing a tale like this makes one feel bad, but at the same time reflect on it as just one of those "lessons of life" that kids must grow through. What made this different for me, however, was that the day it occurred I was already deeply upset as it was the day of the Sandy Hook shootings.
Having said that, I don't think there is a person on this forum who did not want to do something on that day to somehow help a child. As soon as Elizabeth's dad drove away from me in his car, I instantly decided to make her a special jigsaw puzzle. It wouldn't fix anything that went wrong on that horrible day, but it would at least bring some comfort to at least one child in the world.......in the end, that's all that mattered and all that I needed. Reflecting back, I think I made the puzzle more for me than for Elizabeth.
"Elizabeth's Magical Snow Globe" was accompanied by a short story I wrote (which I will keep off the forum and personal to Elizabeth) which essentially tells the tale of a young girl (Elizabeth) who discovers on Christmas that her snow globe is magical, and she can appear within it, and enjoy the happenings. At the end of the story, she places a wreath on the house within the globe, which becomes an annual tradition.
This puzzle was crafted by using a lovely picture I had purchased, and by cutting the snowy scene into the shape of a globe. The globe's pedestal was my own artwork. It was cut from 1/4" Cherry ply, and features some of my "Elevated Figurals." The whole thing was about 10" x 10" in size, if I recall.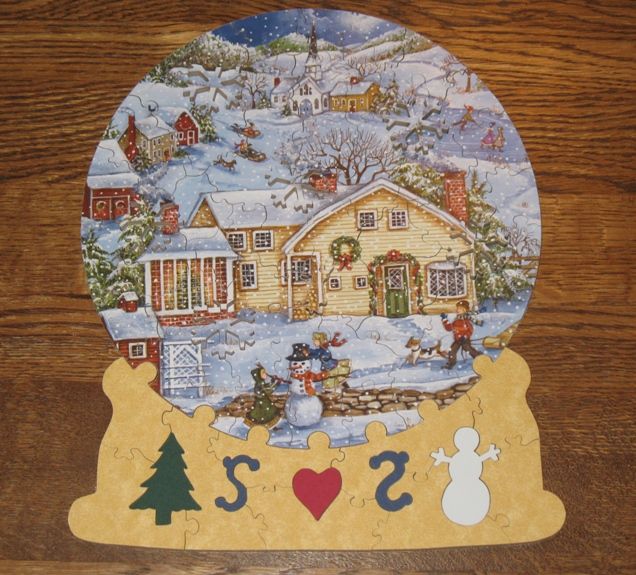 By tilting the puzzle, you can see that all of the figurals (Elizabeth and the snowflakes) are all elevated about 1/4" higher than the main puzzle. My Buff Signature Piece is there as well, but he decided to stay one layer thick so that he could hide humbly in the background.
Here is the puzzle with the Elevated Figurals removed.