Well, the Puzzle Parley is coming up in about a week, and cutters who are attending were asked to come up with a puzzle in theme with "Whales and Witches." The reason for the theme is that the Parley, like last year, is being held in Salem, MA. With it being an oceanfront town, and it's unique historical curiosities, well......you can figure it out.
I really didn't have much cutting time recenty, but here is what I came up with.
"Whales and Witches" , which is 12" x 12" in size, is actually made from 3 different species of wood; the puzzle itself is cut from 1/4" mahogany ply, while the surrounding frame was made from 1/4" afromosia. A unique feature are inlaid whale figurals, which were cut from 1/4" contrasting oak ply.
In the puzzle, the whale figurals gracefully swim along the bottom of the frame, and then magically leap into the puzzle, swimming across the sky, before joining the frame again at the top and continuing on their journey.
You will note that the final whale swimming across the sky has turned briefly into a witch, suggesting that in Salem, the witches live on in the sea in the form of the whales.
I cut many spirals into the puzzle to give the sky a lively appearance, full of magic and swirling wind and spirits, complete with shooting starfish figurals.
On two of the corners of the frame, you will also discover a few other inlaid surprises.
Here is a picture of the puzzle, with the image sharpened a bit to better see the cutting style used.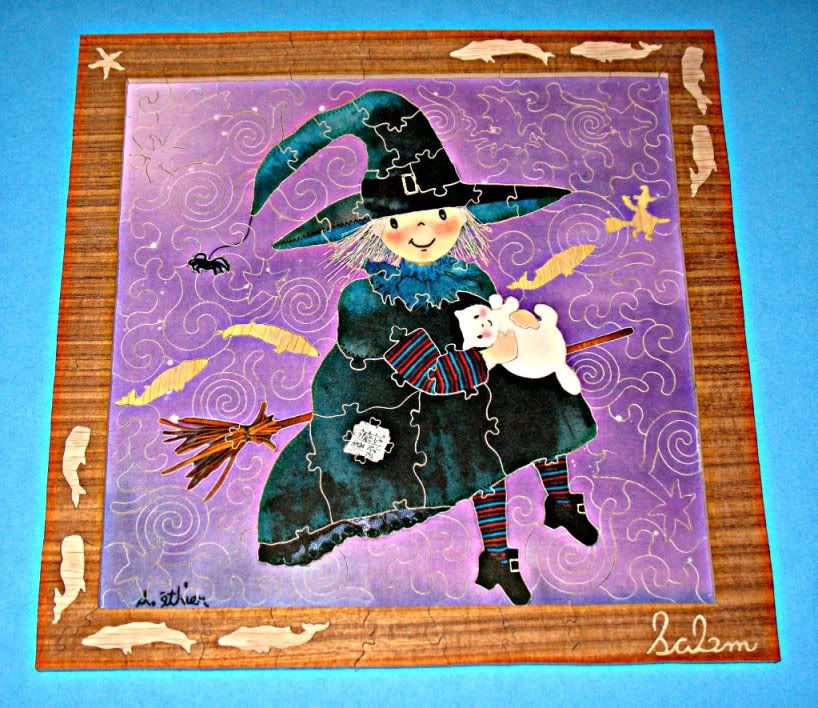 Here, I've removed the figurals so you can better spot them.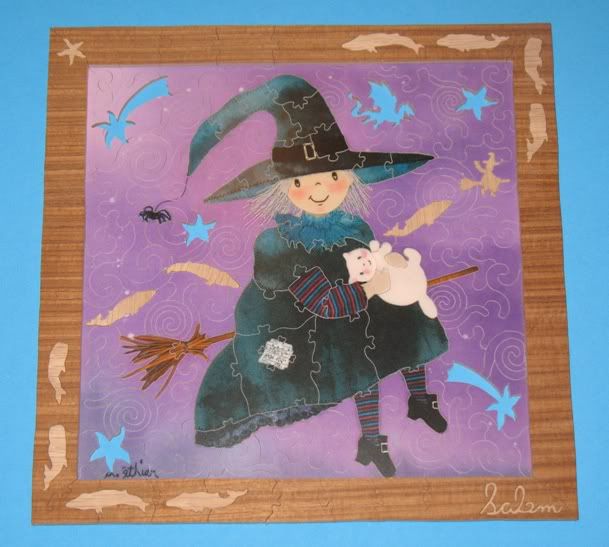 The whale figurals are all slightly different in shape so that each can only fit in one spot, and on the frame, the underlying puzzle interlocks separately from the whales. Each of the whale figurals sailing through the sky have a nice cardstock backing to them, which keeps them flush with the elevation of the picture.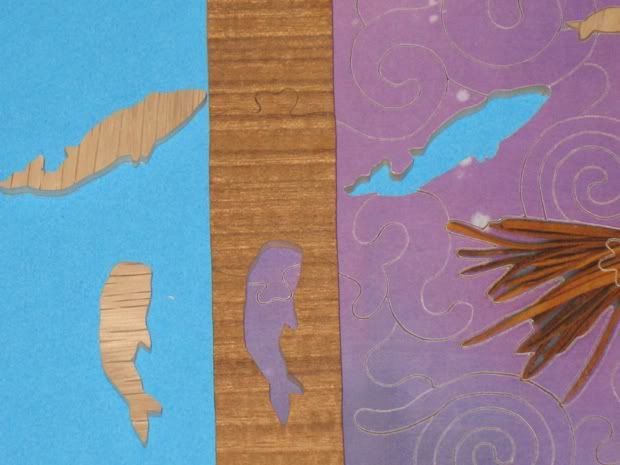 Similarly, the puzzle under the starfish and the "Salem" also interlocks separately.....this was hard to accomplish and required a trickier technique, but if not done so, the inlays would be near impossible to get in and out of the completed puzzle.