I took this challenge on starting in April. Over that span, I've had very little cutting time, but I enjoyed working on it when I could, and just finished a few nights ago.
"Harry Potter and the Puzzle of Magical Pages" is really a homage to all of the great books written by J. K Rowling. They are very important to me, since not only did I enjoy them, but the kids absolutely fell in love with them when they were old enough to do so. It has been such a fun part of their lives the past few years, I have been thinking about making them a Harry Potter themed puzzle for quite some time, and at long last, here it is.
The puzzle was cut from 1/4" cherry ply, and is double-layered. It is approximately 12" x 18", consists of 518 pieces, and has
95
Potter themed Figurals! To add some magical flare, I inset some Swvarksi crystals into various appropriate areas.
The artwork itself is made up of the cover art from each of the books, and a 1/4" frame, which is covered with a white cardstock, separates each of them. A fun element of the puzzle is that each of the Figurals relate to events which happened in that particular book. Therefore, based on how knowledgeable the assembler is of Potter lore, they can figure out where many of the pieces go.
The two "side windows" of the puzzle were created by using text taken directly from the books. The first, on the left, contains the introduction to the series found on the inside cover of Book 1. The second, on the right, takes us to the very end of the saga, and contains the final words of the epilogue in Book 7.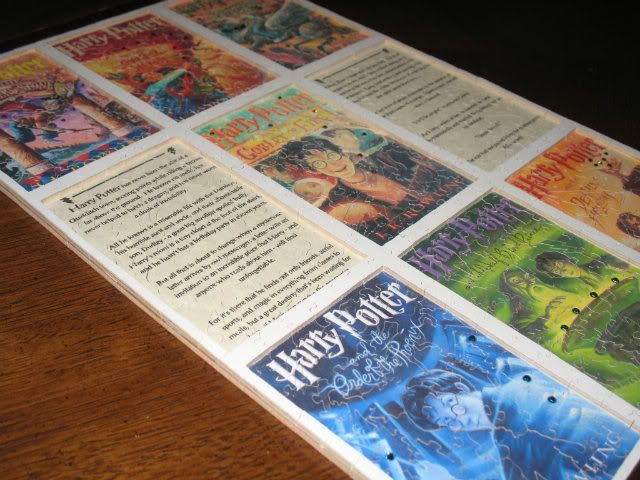 I made a nice sturdy box for the puzzle, clad in Gryffindor colors, of course!!
The inside of the box is lined with Harry Potter themed fabric, showing off the four House Crests (Gryffindor, Hufflepuff, Ravenclaw and Slytherin).