"Revolving Revelations" was recently cut for my son Jeremy, as a gift for his 9th birthday. The art is from a print I purchased, and is approximately 18" x 9", and mounted on 1/4" oak ply. I used a bit of a swirl-like cutting style for this one, which I think went well with the space theme, and since there is quite a bit of similar looking background between the planets, I decided to cut the pieces on the larger side. In the end, the puzzle consisted of 168 pieces, with 27 Figurals.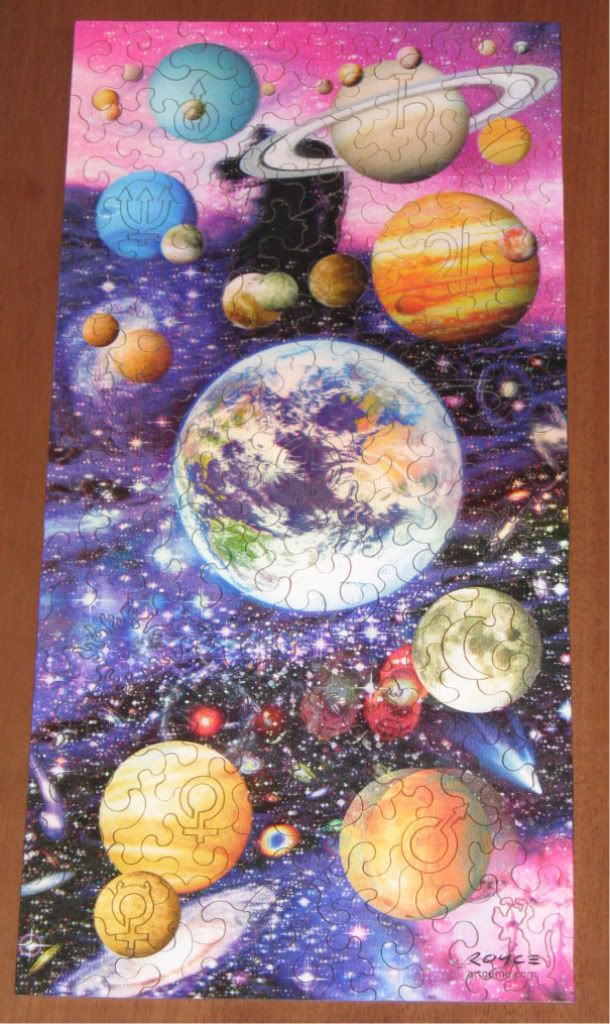 Since I'm a bit of a science fiction and fantasy nerd, I really had a lot of fun going at this one!
Each of the planets and Earth's moon in the artwork contain Figurals of the astronomical symbols which have represented them throughout antiquity. In fact, some of the symbols can be traced to forms found in late Greek papyrus writings.
Here, you can see the symbols for Saturn and Jupiter.
Saturn
was a Roman god, presiding over agriculture and harvest, and the symbol represents him holding his large, curved sickle.
Jupiter
was the Roman god of sky and thunder, and the symbol is believed to represent perhaps his thunderbolt, or the letter zeta, for Zeus, who was the Greek god analogous to Jupiter.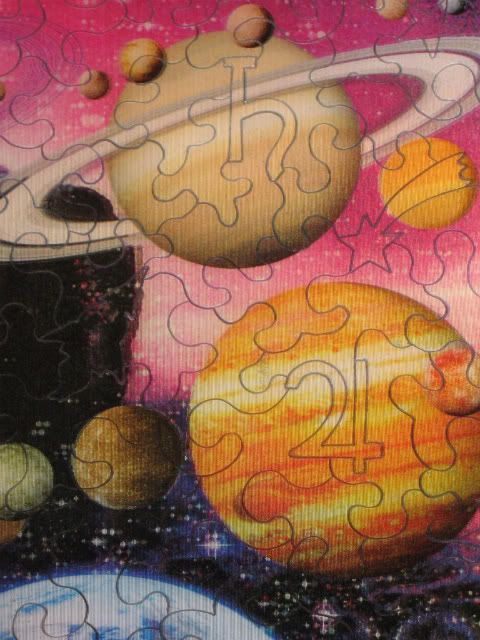 Although the planet
Uranus
is represented by a symbol used in alchemy for the metal platinum, some believe it is a cross between the symbols for the Sun and Mars, since Uranus was a sky god.
Neptune
, the Roman god of the sea, was always depicted carrying a trident, and that influence can readily be seen in the planet's symbol as well.