Before the Holidays, I was contacted by a very nice woman living in France who was interested in purchasing my "Moons and Stars" puzzle, which is a fantasy themed puzzle adorned with numerous moon and star shaped Figurals.
She was disappointed when I told her that it was not for sale, but I instead offered to custom cut a puzzle with different artwork working off a somewhat related motif. As it turns out, she is a very talented graphic artist, and she designed her own piece of art to be used just for this puzzle.
The artwork had a Manga feel to it, which really interested me as I had not yet delved into working with that style and was enthusiatic about trying it out. I began with the notion of working stars into the puzzle, but was not afraid to let the puzzle take on it's own life as I cut it, and develop it's own unique creative identity.
"Sweet Dreams" is 12" x 12" and contains 295 pieces, with 33 Figurals, 24 Picture Elements, and 19 star-shaped "drop-outs." The puzzle was cut from 1/4" Cherry ply. My interpretation of the artwork is that of a young girl (Alice) who has a certain sweet tooth. As she gazes at a dessert menu, she is swept into a dream where endless edible goodies are ready to pleasantly overwhelm her senses. The whimsical happenings in the painting were very inviting to the many Figurals which decided to hop into the puzzle.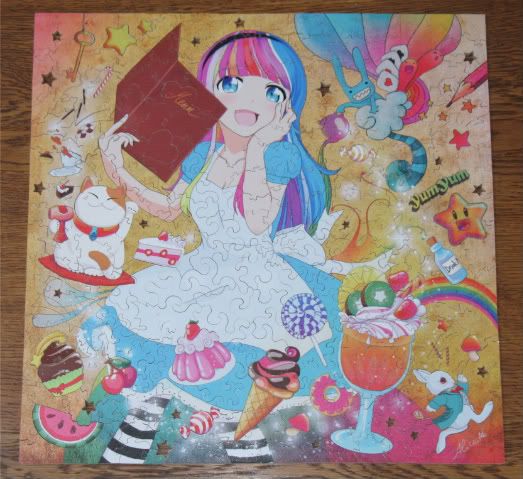 I used three separate "styles" to cut with; a loose, flowing/swirl style for her white apron, a similar, but tighter style for her blue dress, and a more traditional style for the rest of the puzzle.
There are many Figurals which came to join in the fun, and I'll invite you to take a peek at a few of them!
In this picture, The White Rabbit is running so quickly that a wind-shaped Figural is blowing close behind, trying to keep up. "I'm late! I'm late! For a very important date!"
Two chocolate frog Figurals have visited from the world of Harry Potter, and are leaping off of their toadstools. One seems to be going for a nice big strawberry, and the other is interested in a doughnut! The tiny little stars are some of the drop-outs.