"Heroic Marvels" was a fun cut I recently completed. It is approximately 22 inches x 13 inches in size and was cut from 1/4" Oak ply. I made it as a gift for the 10 year old grandson of a friend, so I cut the pieces somewhat larger in size and easier to handle. In sum, the puzzle still ended up with 317 pieces and 25 Figurals. I worked on it intermittently over several weeks.
The puzzle was made from a large poster I purchased which contained hundreds of superheroes from the Marvel universe (sorry, Zohar...no Supes. You'll have to wait until I get a DC version done, LOL). I decided to focus in on the superheroes featured predominantly in the foreground of the poster and left the others out. I this way, I think the puzzle ended up with a more interesting shape.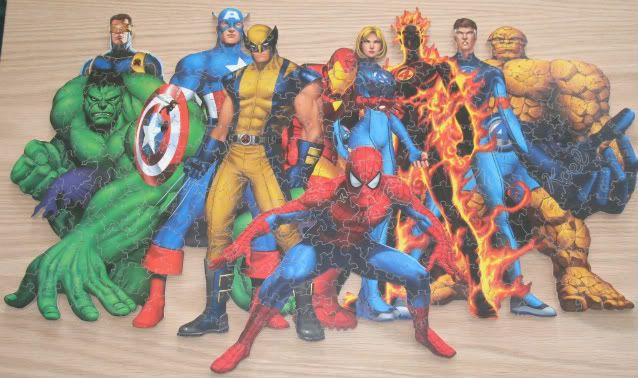 This picture better shows where the Figural pieces might be found. Look quickly, though, as they're apt to fly away, or shift into another dimension!