I really love using folk art as a source for what I make as it really lends itself to the antiquity of cutting old-fashioned wooden jigsaw puzzles.
"At The Old Stone Mill" was cut from 1/4" Cherry ply, is 13 x 11 inches, and contains approximately 500 pieces. There are 34 Figurals and 8 Picture Elements within it. The source of the artwork was from a nice calendar I purchased.
One of the personal features I like to add to some of my puzzles is to inset gems into the wood to establish a certain effect. In this project, I inset more than 50 of them around the picture, to enhance the sensation of a "magical" snow. I used clear gems for this (the camera makes some look yellow), with the exception of some light lavender ones on the dusk horizon, and some blue ones over the frozen ice.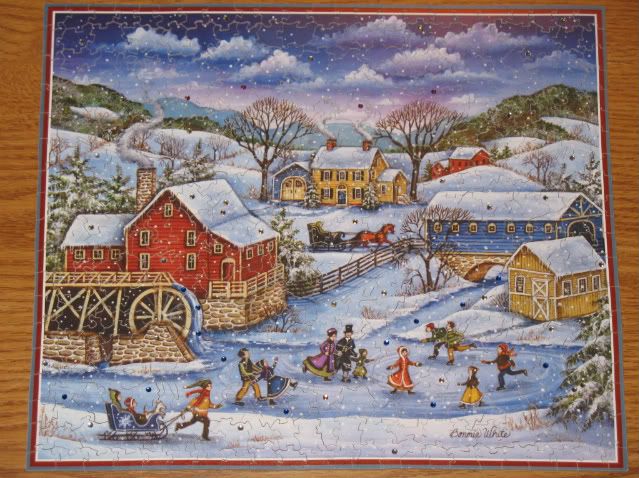 The engaging scene in the artwork attracted many Figurals to "jump into" the puzzle, and many of the Picture Elements, such as many of the skaters, were happy to "jump out" for a while.