this is the project that I have been working on for the last couple weeks..
it's a graduation gift for our boy when he gradates from the Police academy..
all this peice needs now is his badge number..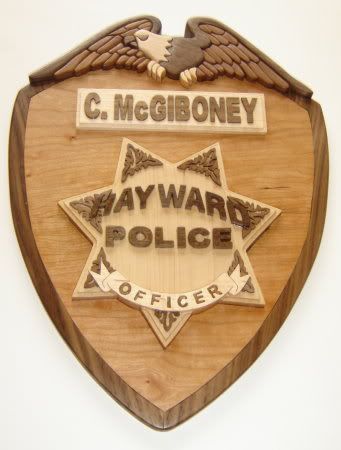 the badge is cut out of 3/4 maple with walnut lettering and acsents...
the name plate is maple with walnut lettering...
the eagle is 3/4 Cherry, Maple and Walnut...
The plaque is 1/2 Cherry and walnut...
the 2 hardest parts was cutting out the hole for the badge and all the little cuts in the base for the eagle...
they both turned out really clean and I'm very happy with the resolt...

the whole project was made around the handcuffs which was suppose to hang under the plaque..
I'm working on a hanger for the cuffs that just might work..
so that's my envision of the project
Trout