today I volunteered to do another Grand prize for the raffle at our next fishing get together in October..I thought about doing one of Old Griz's trout patterns but I just don't know if my saw can handle all those holes so I ordered a couple patterns from Judy Roberts...
I'm going with this one for the raffle prize...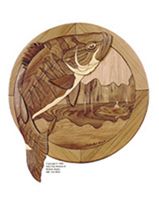 a lot of the guys say that I do too many trout and they would like to see a bass now and then...
I'm sure glad that I'm not in Canada because they said it can take 8 weeks for delivery..I've got 5 weeks...
Trout