here I am looking for new projects when the fish I just finished is still sitting on the work bench waiting to be hung...
I need to make a raffle grand prize that will be giving away at our next fishing get together in October....I think they would be pretty excited about winning the piece...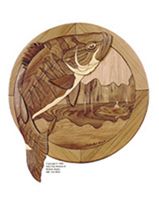 This is another project I'm thinking about doing. It will be a gift for my sister and brother in-law in Montana, they have a horse ranch in Livingston..
This one would look good on our wall...
I found these patterns at Intarsia.com
has anyone done any of Judy and Jerry's patterns?
I also like some of Kathy Wise horse patterns...
all I need is patterns, wood and 6 months...
Trout