Toni / Sue. Here's my cut out of Live Laugh Love, I hope you don't mind me taking a liberty with your pattern by adding a stand. I just didn't think I would cut it even enough for it to balance on the L & V.
It's cut from 3/4" clear pine and sprayed with several coats of Varathane.
I intend to give this to a young lady as a thank you gift who is working at my office while the receptionist is away on holidays.
Thanks again for another great pattern.
Marsha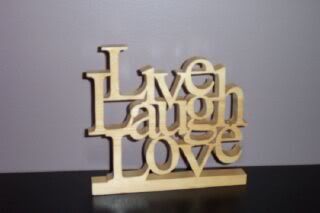 PS: You don't have anymore like this hanging around, say hmmmmm, one that says "Smile It's Friday" with a spot for a mini clock fit up to go in.(I could send you a mini clock fit up, if you need one for a measurement
)
Just curious
Marsha